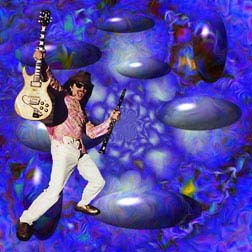 Transition To A New Dream was recorded between January and November 1997 in my spare room using Protools and Cubase on a Macintosh 7300 computer. Tied (One More Day) was recorded at BigMidget Studio in Vancouver by Sean Chikara. Mixed and mastered at Profile Studios with Cecil English. Cover Art by Evan Symons with considerable help from Photoshop 4.0 and Kai's Power Tools.
I recorded this record after my ex-wife Angela Rancourt and I broke up. We'd had so many frustrating experiences together in our mutual co-dependant insanity trip, that I was so relieved to be away from it and wasn't really grieving at all. However, we're still friends and that can be difficult at times. The cover symbolizes breaking free from the bounds that you've tied yourself up in, as all is choice.
This little piece of prose accompanied the release of this album:
I was half of the nucleus of Uneven Steps from 1990 to 1997 until the thermal nuclear meltdown chronicled in the song Renewal left me too raw to form another band but with a bunch of new ideas desperate for space in the ether. I also played bass for Red Sugar on their Medicine album, and guitar for The Four Food Groups of the Apocalypse.
Transisition to a New Dream is the 3rd release on the Step and a Half Label. Some missionary from a lost Jupiter moon said that it should be labelled Progtronica Pop. To me its about finally leaving behind the shit of the past and figuring out whatâs next. Kind of the resolution to a mid-life crisis or something. Not Sure is likely the pivotal song thematically. The Way Things Are is about being overwhelmed in the work place with new ideas, not being able to keep up and finally youâre fired in the name of re-engineering. Brain Interface is about being a person with some of these new ideas, but there are so many of them that you don't have enough time to breath and you look for a mechanical solution rather than looking to your soul. Tied (One More Day) is an autobiographical piece about how I was really choosing to stay tied to my misery, when I was really only tied with a slip knot. Focus was inspired by a house gig I went to where I simply had to go home and record bass guitar. The lyrics are inspired by the Master Key by Haanel. Goddess of the Moon tells of meeting someone you feel a strong connection to, but it is impossible to get together. In a Greek myth, Artemis the Goddess of the Moon sees Endymion sleeping on a mountain and is so entranced with him that she makes love to him in his sleep. Endymion then asks Zeus to have himself put permanently to sleep so that he can make love to Artemis forever. Call the Dream Operator, you might be surprised who answers! Evan Symons Jan 14, 1998